Skip to Main Content
It looks like you're using Internet Explorer 11 or older. This website works best with modern browsers such as the latest versions of Chrome, Firefox, Safari, and Edge. If you continue with this browser, you may see unexpected results.
Images
The Vanguard; a Photographic Essay on the Black Panthers

by

Call Number: E185.5 .B3

ISBN: 0807005525

Publication Date: 1970-01-01

Black Panther

by

Call Number: Print Books NC999.4.D68 A4 2014

ISBN: 9780847841899

Publication Date: 2014-02-04

The first book to show the provocative posters and groundbreaking graphics of the Black Panther Party.

Soul of a Nation

by

Call Number: Print Books N6538.N5 S63 2017

ISBN: 9781942884170

Publication Date: 2017-09-26

African American art in the era of Malcolm X and the Black Panthers In the period of radical change that was 1963-83, young black artists at the beginning of their careers confronted difficult questions about art, politics and racial identity. How to make art that would stand as innovative, original, formally and materially complex, while also making work that reflected their concerns and experience as black Americans.
ARTstor

Search "black panther party" to find images of people, artwork, and documents.
Streaming Video: Kanopy
Kanopy

Films streamed on Kanopy are provided to the Puget Sound community for classroom and educational purposes only. Films that have been licensed for use by the University of Puget Sound are immediately available on the Kanopy platform. If a film has not been licensed for use, you may submit a Kanopy request form and the library will consider the request.

Search for films by title, subject, keywords, or browse by subject. Register with Kanopy to utilize features such as playlists, clips, sharing, embedding, and creating a watch list for future viewing.
Available through Kanopy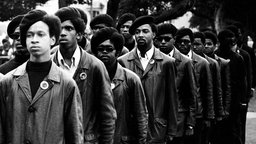 The Black Panthers: Vanguard of the Revolution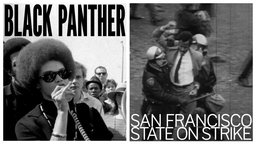 Black Panther/San Francisco State on Strike
Freedom Archives: Cointelpro 101
Streaming Video: Films on Demand
Featured films available through Films on Demand
Huey P. Newton: Prelude to Revolution
Stokely Carmichael Discusses Black Power ca.1988